Mis muñecos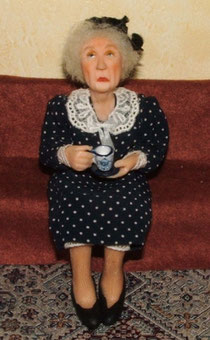 Mis figuras son modeladas individualmente, sin la utilización de moldes en ningún momento del proceso. Por lo tanto, cada una de ellas es una pieza única, original e irrepetible.
Son modelados en arcilla polimérica, generalmente uso Fimo Miniature. Después de modelados y cocidos, son pintados con Genesis Oil Paint y sombreados con pastel seco, y van al horno una vez más, para fijar el color.
Los cuerpos son construidos sobre un armazón de alambre. En las partes que van a quedar cubiertas por la ropa, el alambre es revestido de algodón, lo que otorga al muñeco cierta flexibilidad, necesaria para adaptar la postura a las necesidades del ambiente. Sin embargo, cada personaje es una creación integral, y por lo tanto la actitud corporal, la expresión del rostro, las ropas y demás accesorios, responden a una idea original. Mis figuras no son polivalentes, y no es mi intención que adopten diferentes posiciones, sino que la posición en la cual fueron creadas sea perfecta.
Después de modelado, cocido y armado el muñeco, son confeccionadas las ropas, con moldes propios, e pegada o moldeada sobre la figura para obtener una caída natural, adaptado a la actitud del personaje.
El cabello es de mohair, lana o viscosa. Cada uno de los accesorios que componen la figura es confeccionado a mano.
As minhas figuras são modeladas individualmente, sem a utilização de moldes em nenhum dos momentos do proceso. Portanto cada uma delas é uma peça única, original e irrepetível.
São modeladas em massa polimérica, geralmente utilizo a Fimo Miniature. Depois de modelados e cozidos, são pintados com Genesis Oil Paint e sombreados com pastel seco, levando depois disso mais uma cozedura para fixar a cor.
Os corpos são construídos sobre uma armação de arame. Nas partes que vão ficar cobertas pelas roupas, o arame é revestido de algodão, o que dá ao boneco certa flexibilidade, necessária para adaptar a postura ás necessidades do ambiente. No entanto, cada personagem é criado de maneira integral, portanto a atitude corporal, a expressão do rosto, as roupas e demais acessórios, respondem a uma ideia original. As minhas figuras não são polivalentes, e não é a minha intenção que elas adoptem diferentes posições, mas que aquela posição na qual foram criadas, seja perfeita.
Depois de modelado, cozido e armado o boneco, são confeccionadas as roupas, com base em moldes próprios, colada ou moldada sobre o boneco, para obter um cair natural, adaptado à atitude da personagem. 
Os cabelos são feitos de mohair, lã ou viscose. Cada um dos acessórios que compõem a figura, é confeccionado a mão.
My figures are hand sculpted individually, without using molds at any moment in the process. Therefore, every one of them is a unique, original piece.
They are modeled in polymer clay, I tend to use Fimo Miniature.
After they are modeled and cooked, they are painted with Genesis Oil Paint and shaded with dry pastel, and are cooked once again to fix the colors.
The bodies are constructed on a wire frame. On the parts that are going to be covered by clothing the wire is lined with cotton, which gives the doll some flexibility, necessary to adapt its posture to the scene.
Nevertheless, each character is a full creation, therefore its corporal attitude, the expression of the face, the clothes and other accessories respond to an original idea. My figures are not multipurpose, and it is not my intention that they adopt different positions, but that the position in which they were created is perfect.
After the doll is modeled, baked and put together, the clothes are made, with my own molds, glued or molded on to the figure, to obtain a natural fit, adapted to the attitude of the character.
The hair is either mohair, wool or viscose. All the accessories that compose the figure are hand made.