Aligra Dolls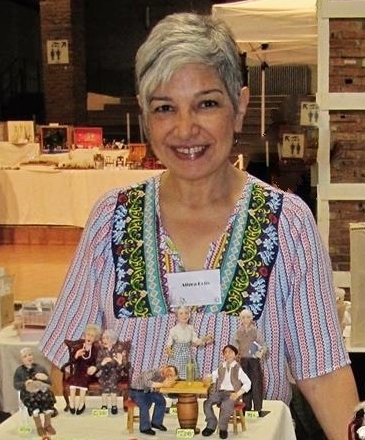 Mi nombre es Alicia Volta. Soy argentina, pero vivo en Portugal, en la bellísima región de Algarve, desde el 2001.
Aquí descubrí, a través de un grupo de amigos, el maravilloso mundo de las miniaturas. En ese vasto campo, lo que más me atrajo fueron las muñecas. La creación de personajes cotidianos, cada uno de ellos especial y único, diferente de los demás, protagonistas de pequeñas escenas de la vida diaria, se transformó en una pasión que me impulsó a aprender más y más, intentando nuevos caminos para perfeccionar la composición de mis figuras.
O meu nome é Alicia Volta. Sou argentina, mas moro em Portugal, na belíssima região do Algarve, desde 2001.
Cá descobri, por intermédio de um grupo de amigos, o maravilhoso mundo das miniaturas. Nesse enorme campo, o que mais chamou a minha atenção foram as bonecas. A criação de personagens quotidianos, cada um deles especial e único, diferente dos demais, protagonistas de pequenas cenas da vida diária, virou uma paixão que me levou aprender mais e mais, tentando novos caminhos para aperfeiçoar a composição das minhas figuras.
My name is Alicia Volta. I'm Argentine, but I've been living in the beautiful region of the Algarve, Portugal, since 2001.
Here I discovered through a group of friends, the wonderful world of miniatures. In that vast field, I was especially attracted by the dolls. The creation of common characters, each one different from the others, protagonist of small daily and simple scenes became a passion, and impelled to me to learn more and more, and try new ways to perfect the composition of my figures.